Russian Defense Ministry says Su-24 jet was in Syrian airspace

Russian jet was warned 10 times in five minuets
Turkey said it shot down a Russian warplane near the border with northwestern Syria after the pilots ignored repeated warnings that it was violating Turkish airspace.
Russia's Defense Ministry denied that the aircraft had ever left Syrian airspace, while acknowledging that one of its jets had crashed in the country. The pilots are believed to have ejected and a search for them is continuing, the ministry said Tuesday on its website.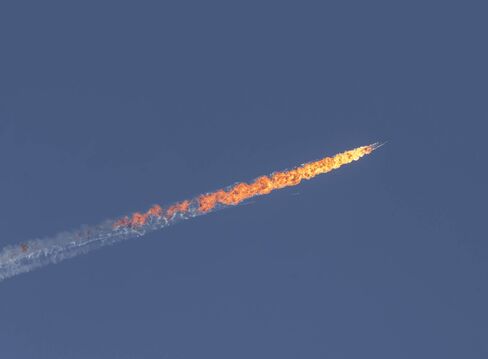 The Russian warplane was shot down near the border and the two pilots were captured by Turkmen forces in Syria, AHaber television reported. One of them is dead, CNNTurk reported, citing unnamed local sources. Russian and Syrian warplanes have been active in the area, reinforcing Syrian President Bashar al-Assad's troops against Turkmen fighters.
Relations between Turkey, a NATO member, and Russia, which started a campaign of air strikes in Syria in support of Assad's forces on Sept. 30, have soured over the Russian intervention. Turkey, which backs rebels seeking Assad's ouster, has at least twice warned Russia about incursions into Turkish airspace.
This is a "very serious incident" and patience is needed to establish the full picture, Kremlin spokesman Dmitry Peskov told reporters on a conference call Tuesday. He declined further comment, saying President Vladimir Putin may speak on the crash at talks later Tuesday with Jordan's King Abdullah.
Markets Fall
Two Turkish F-16 jets "intervened" at 9:24 a.m. after the Russian jet violated the country's airspace, Turkey's military said in a website statement. Pilots warned the Russian plane 10 times in five minutes before it was hit, according to the statement.
The jet was at a height of 6,000 meters (19,700 feet) and may have been hit from the ground, the Russian Defense Ministry said.
The lira reversed earlier gains after the reports of the crash and was trading 0.8 percent weaker at 2.8728 per dollar at 12:27 p.m. in Istanbul. Turkey's Borsa Istanbul 100 index fell 1.3 percent and bonds declined after the incident.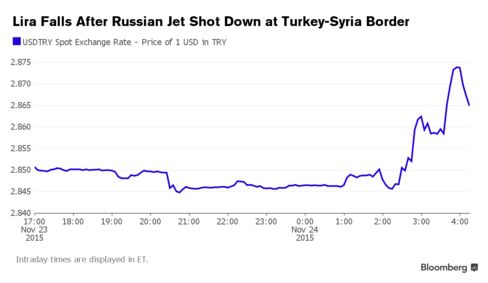 Russia's Micex Index fell 1.9 percent to 1,832.47, the most in two months, after rising 8.1 percent in six previous days. Government bonds dropped for a second day, pushing five-year yields up 18 basis points to 10.06 percent, the biggest increase since August.
Airspace Violations
Turkish military rules of engagement would apply to any plane that enters its airspace without permission and Russia should act carefully, Turkish Prime Minister Ahmet Davutoglu said in early October, after Russia said its jets mistakenly violated Turkish airspace at the time. Russian Foreign Minister Sergei Lavrov is scheduled to meet officials in Turkey on Nov. 25.
Davutoglu consulted with the country's military chief Hulusi Akar as well as Foreign Minister Feridun Sinirlioglu after the warplane was shot down, the prime minister's office said. Turkey would raise the issue with the North Atlantic Treaty Organization, the United Nations and "related countries," Davutoglu's office said.
NATO "is monitoring the situation closely and we are in touch with the Turkish authorities," the military alliance said in a statement in Brussels.
Video footage broadcast by Turkey's state-run Anadolu Agency showed the jet bursting into flames and descending rapidly before crashing behind a mountain. Turkey has warned Russia against airstrikes that have targeted ethnic Turkmen rebels in the area.
Turkey shot down an unmanned drone on the Syrian border in October. The military also downed a Syrian MiG-23 warplane in March 2014 and a Syrian helicopter that entered Turkish airspace in September 2013.