Skye Bank resumes operations in Osogbo after lockdown of its premises by customer
The branches, according to a statement by the bank, were violently invaded by Tuns Farms Limited's operatives and thugs on Thursday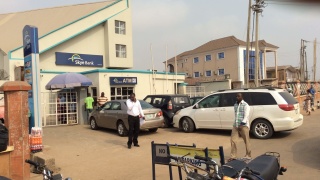 Skye Bank Plc early on Friday opened all its branches in Osogbo, the Osun State capital.
The branches, according to a statement by the bank, were violently invaded by Tuns Farms Limited's operatives and thugs on Thursday.
This disrupted banking activities.
This was in a bid by Tubs Farms Nigeria Limited to enforce a court judgment on which Skye Bank had filed a notice for stay of execution and a pending appeal at the Supreme Court.
The Bank said the customer was duly notified.
In the statement on Friday, Skye Bank said: "Customers trooped out this morning to transact their business following assurances given by the Bank of restoration of normal banking business."
Meanwhile, the Bank has described as an abuse of the judicial process and lawlessness the action of Tuns Farms Limited, which it said illegally disrupted its operations despite a pending notice of appeal and application for stay of execution, which has been filed and served by the bank against an Osogbo High Court judgement in favour of the customer.
According to a statement by the bank, Tuns Farm Limited abused the judicial process by approaching the High Court of Osogbo, whose judgement has been appealed against, for an enforcement order on the bank and procured a writ of attachment, even when the High Court clearly no longer had any jurisdiction over the matter, the case having been transferred to appellate courts.
The Bank stated that a notice of appeal and an application for stay of execution had been filed and served on Tuns Farms Limited since May 2015.
Tuns Farms Limited, it said, had in fact filed necessary papers in response to the pending court processes.
The Bank said it was awaiting the hearing date for the application when Tuns Farms Limited's operatives invaded its banking offices in Osogbo with thugs, criminals and area boys to disrupt its operations and loot its assets.
The Bank said it has taken necessary steps to protest the obviously criminal action by Tuns Farms Limited to the relevant law enforcement agencies, being an action that is capable of breaching the peace.
The Bank reassured its customers that it will continue to provide normal banking services at all its locations in spite of the illegal and provocative invasion of its premises by Tuns Farms Limited.